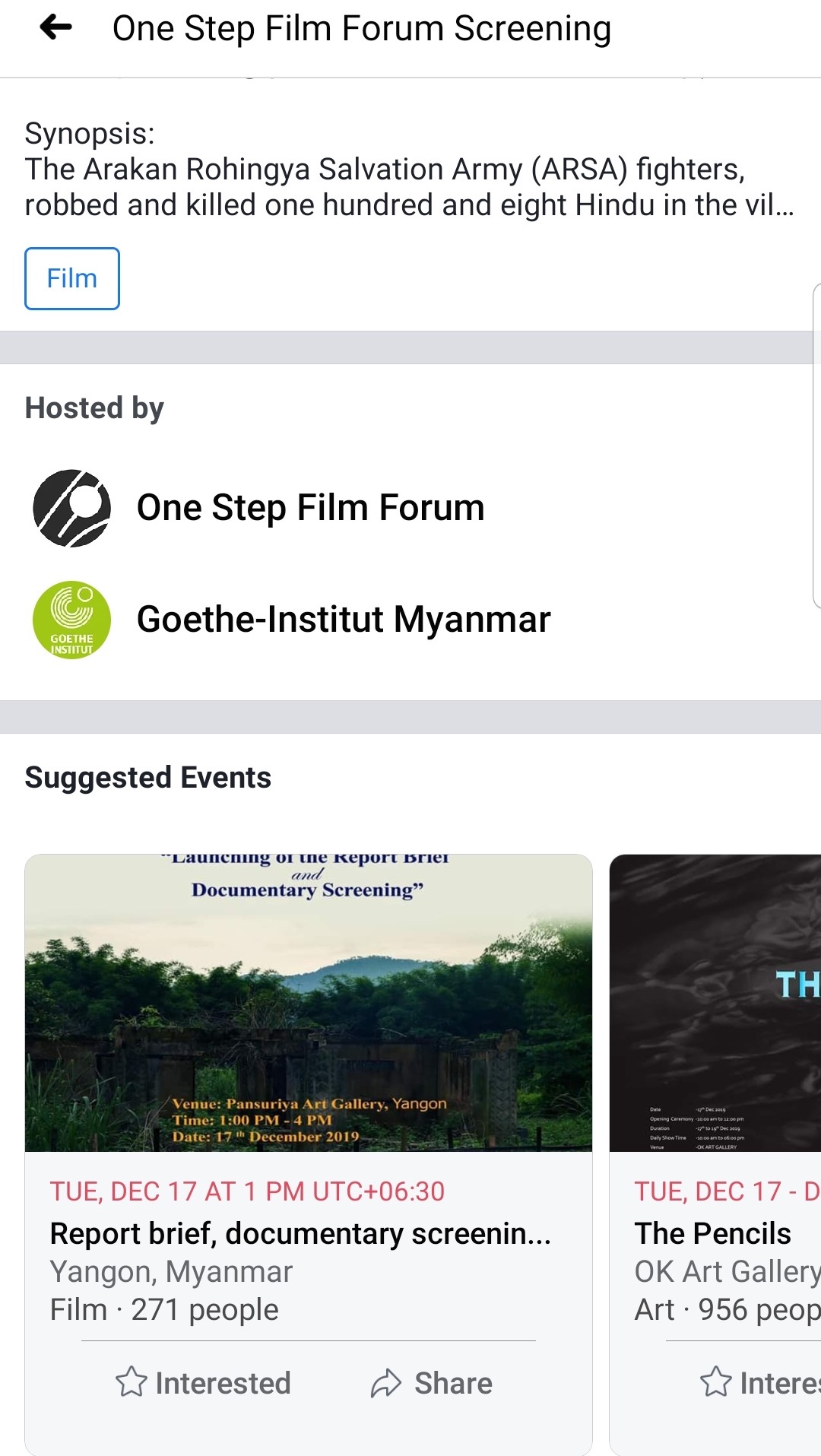 TRUNOCIDE
(Documentary, 58 mins)
Director Banya

https://www.facebook.com/events/524842018334088

Synopsis: The Arakan Rohingya Salvation Army (ARSA) fighters, robbed and killed one hundred and eight Hindu in the villages of Kha Maung Seik and Ye Baw Kya, Maung Daw Township, Northern Rakhine, Myanmar. Eight women and eight of their children – survived, their lives spared on the condition that the women agreed to "convert" from Hinduism to Islam and then marry men selected by ARSA fighters. Several days later, the survivors were forced to flee with the fighters to Bangladesh.
 
Zarni's comment:

This is along the lines of Rohingyas burned down their own houses before they fled to Bangladesh. Later one Myanmar journalist who has been assisting me on the subject of organized violence in Rakhine since 2012 sent me two pictures where in a dark-skinned Burmese couple were seen torching their own bamboo house.
The woman was wearing a head-dress in order to signal her Islamic faith: it turned out the couple were a Hindu couple whom Myanmar intelligence used in doctoring the scene of Rohingyas burning their own wooden and bamboo houses.
Myanmar Intelligence (psych-war division) has been using a group of Hindus from Rakhine state to tell the horrid tales of how Rohingya terrorists, in black ski-masks - slaughtered 100 Hindu.
Amnesty International was allowed in, with absolutely no visible surveillance - by Myanmar military intelligence and the police special branch, and greenlighted the AI's interview with a village chief - who in turn without fail typically reports to local Special Branch as a matter of routine.
And bingo! AI produced the report that more or less repeated the Myanmar Military True News Committee's "findings".
In India, Hindu Fundamentalists - who don't raise their voice over the genocidal purge of 1 million Rohingya Muslims into Bangladesh since 2016 - seized the AI's report - Muslim terrorists killing 100 Hindu in neighbouring Myanmar.
I have raised the major issue of Amnesty International relying on the Burmese-military-vetted witnesses - to whom Amnesty researchers would not been able to access as the witnesses, without the military's direct or indirect facilitation.

The sad and outrageous truth is this: while the German staff in Yangon may co-sponsor this Muslims-killed-Hindu film, directed by a group of Burmese Buddhists - thereby endorsing or promoting the official and popular bigoted narrative, they will not and they dare not screen the film EXILED - 45-minutes Al Jazeera English documentary.
Forget the Germans in Myanmar, German official who are in charge of Green Party's Foundation Heinrich Boell, dared NOT host a conference on Rohingya genocide in Berlin (That was why, we held the same conference at the Jewish Museum of Berlin in March 2018.
When individuals and institutions who should know better - because the country committed the most horrendous genocide in recorded history - behave in this morally coward fashion there is little wonder then that we keep witnessesing and screaming at the post-Holocaust genocides - one after another since the closure of Auschwitz by the Soviet Red Army in 1945.