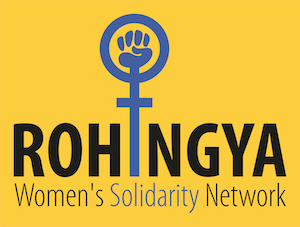 Rohingya Genocide Remembrance Day 25th August 2019
RWSN call for international solidarity, protection, and an end to investment in genocide
Rohingya Women's Solidarity Network: RWSN is a network built by Rohingya women in the refugee camps of Bangladesh and beyond, founded on the principal that we, as Rohingya women, should play a central role in articulating the issues that impact our lives, and participate in the actions that affect our futures. In the spirit of solidarity, we aim to raise our voice and our status as Rohingya women. Together as sisters, we strive towards justice and equity for our communities, and for women and girls within our communities. 
Rape as genocide: During the military "clearance operations" that began on 25thAugust 2017 a campaign of rape was launched against Rohingya populations in Rakhine State. Sexual violence involved hundreds of soldiers and occurred across the length of Maungdaw and northern Buthidaung. "Such scale and breadth of incidence provides strong evidence that rape was systematically planned and used as a weapon against the Rohingya population" (Rape by Command: sexual violence as a weapon against Rohingya, Kalandan Press 2018).
Rape and other forms of sexual violence have been perpetrated by the Myanmar military against Rohingya women and other women of Myanmar including Shan, Kachin and Karen. These crimes have been taking place over decades, but the Myanmar military continues to enjoy impunity and support both domestically and internationally. The systematic use of rape as a weapon is a war crime, a crime against humanity, and a tactic of genocide, for which Myanmar's military leaders must be held responsible.
Security and Protection: Returning safely to our homeland is very important to us. However, it is unfathomable for us to go home to be placed under the protection of the Myanmar military who ordered and perpetrated mass rape against us. In order for us to return on a voluntary basis, we must have security and safety – a safe area where our equal rights can be ensured. We need international protection from the institutions that have committed genocide against our Rohingya people including the Myanmar military. 
Foreign Investment and Engagement: We recognise 25thAugust as Rohingya Genocide Remembrance Day – a day in which we remember and honour all the Rohingya victims of genocide. On this day we look to the international community to help end the impunity. The genocide in Myanmar is ongoing and must be stopped. Myanmar continues to enjoy business ties and engagement internationally. We request everyone internationally to stop doing business with those who commit the crimes of genocide. Please stop. Please do not invest in rape. 
Rohingya Women's Solidarity Network
Media Contact: Razia Sultana | [email protected]