Kyauktaw — A Rohingya man and his son were killed in an IED explosion at 'Alay Kyun' village in Kyauktaw Township on Tuesday (May 21).
A Rohingya boy picked up the pipe bomb — an IED (Improvised Explosive Device) with tin-pipe shell suspected to be planted by Rakhines from nearby villagers or rebels from Arakan Army (AA) — at a paddy field nearby the road outside the village, while he was looking after his cattle on Tuesday morning. He took it home, not knowing it was a bomb, where it exploded and killed his father, Mohammed Shobi, and eight-year-old brother, Ikram.
"The boy didn't know it was a bomb. So, he brought it home and gave it to his father, Mohammed Shobi, 36, s/o Abdul Malik. Unfortunately, the father also didn't know that it was a bomb and thought it would make a good hilt (grip) of his (domestic) machetes.
"At around 11 am, as he was trying to hammer the tin pipe (bomb) and make it the hilt of his machetes, it exploded. It killed his another eight-year-old son, Ikram, who was nearby him, on the spot and severely wounded him. About one and half hours later, at around 12:30pm, he also passed away," said a Rohingya man, his neighbor, from 'Alay Kyun' village.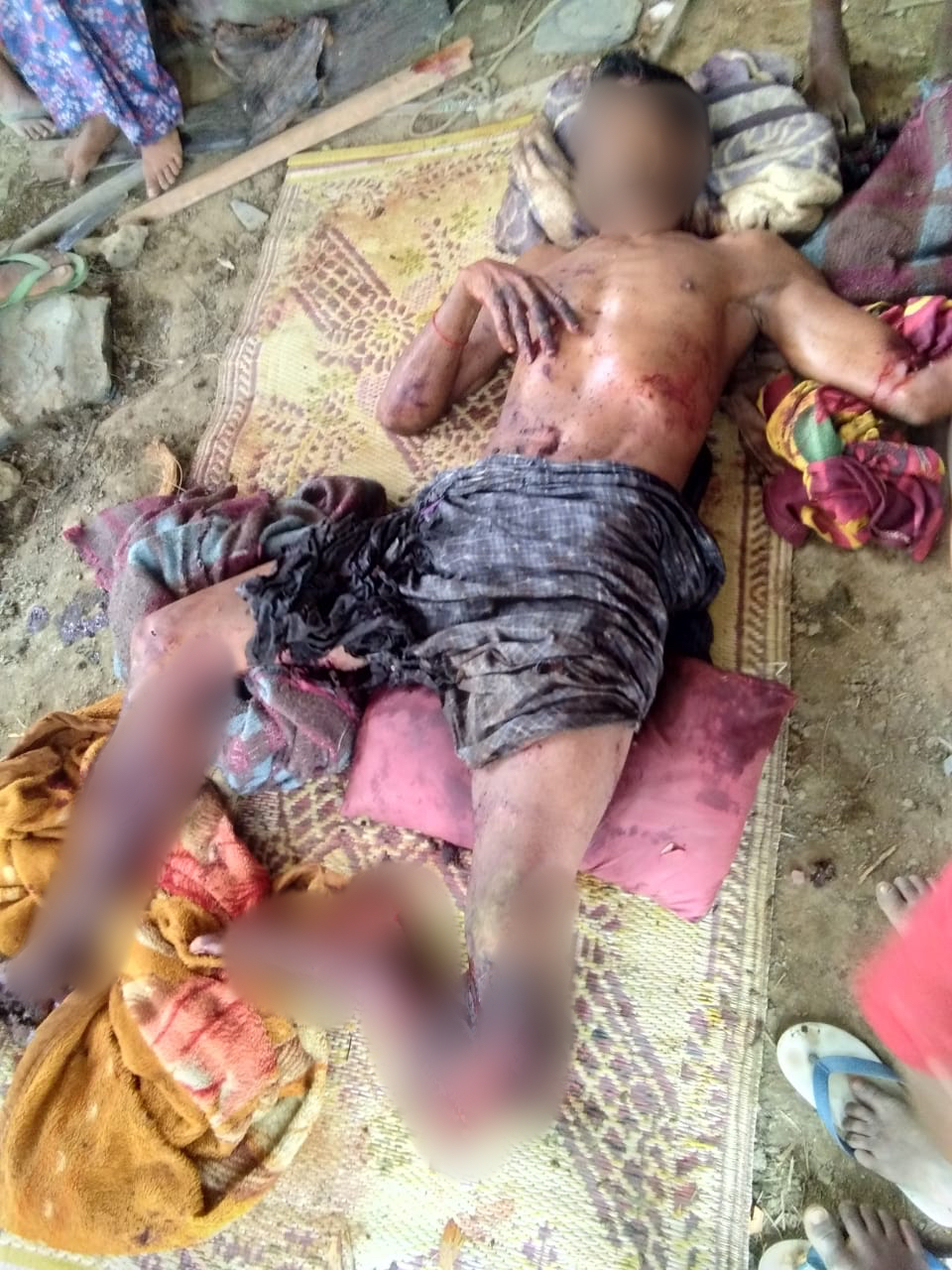 The IED pipe-bomb that the boy picked up from the paddy field was planted by nearby the Rakhine villagers or the rebels from Arakan Army (AA) in order to hit the Myanmar military columns during their movements along these route, according to the villagers.
"We often see that Rakhine villagers planting landmines in and outside Rohingya villages, by the Roadside and in the paddy fields, in order to hit Myanmar military during their movements.
"Though they are planting IEDs and landmines to hit the Myanmar military, in reality, the people that are getting hit and harmed by the explosions are  innocent Rohingya villagers," said an elderly Rohingya man in Kyauktaw on the condition of anonymity.
The version of the report that news agencies and mainstream media carrying out as "the father and son getting killed in an artillery shelling" is not true, villagers from 'Alay Kyun' confirmed with Rohingya Today. They were, in reality, killed by in an explosion of a pipe-bomb that was picked up by small boy in a paddy field.
Off late, many Rakhine people were seen or reported to have planted IEDs or landmines in and around Rohingya villages in Kyauktaw. Some of the  recent incidents are as follows.
— Last Sunday (on May 19), an IED explosion occurred beside the road at the entrance of 'Alay Kyun' Rohingya village, while the Myanmar military were entering the village.
— Around 8:30pm on May 14, four Rakhine men from 'Shwe Pyi' village were seen planting bombs inside the Rohingya village, Alay Kyun. Though the Rohingya villagers managed to hold one of them, they had to release him due to the threars by the village administrator (a Rakhine) and other Rakhines from other villages to burn down the entire village of 'Alay Kyun.'
— On April 25 afternoon, Rohingya villagers from 'Wa Kin' saw some Rakhine men from 'Shan' village planting landmines at paddy field of the 'Wa Kin' village. A quarrel between the Rakhines and the Rohingya villagers took place when the (Rohingya) villagers tried to stop them. However, the Police arrested three Rohingya villagers instead of arresting the culprit Rakhines but later, released them.
[Reported by Khin Maung Naing; Edited by M.S. Anwar]