Take a look at the photograph above. It shows Leena Ghosh sitting at the ICJ as part of Myanmar's defence team. Indeed she is adviser to the Alternative Agent, Mr. Kyaw Tint Swe. They were both present in The Hague. They were both there to attempt to demolish what their team leader, Aung San Suu Kyi, described as the "misleading and incomplete factual picture of the situation in Rakhine state" painted by The Gambia.

Now take a look at the picture below. There is Leena Ghosh again - this time in Rakhine state. She is striding ahead of the esteemed (?) Ambassador Rosairo Manalo, Chairman of ICOE. Ms Ghosh was  no doubt eager to get stuck into the 461 page report that has just been produced by the ICOE. (That report was supposed to be out before August 2018 but no one noticed or  cared or complained when it didn't come out.). Anyway, you will find many pictures of Leena and Rosario and the rest of the gang together in Rakhine State, in Bangladesh etc.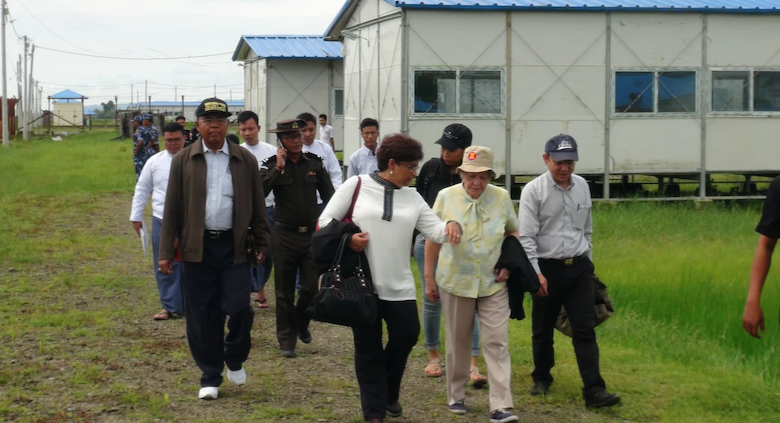 So what's the problem? 
The problem is ICOE makes a grand claim that "It will be guided in its activities by the principles of independence, impartiality, objectivity, discretion, transparency, confidentiality, integrity and professionalism." This is according to its own "Key terms" of reference. So the problem is that Leena Ghosh sitting in The Hague behind Aung San Suu Kyi in December 2019, over a month before the submission of ICOE's report, torpedoes those terms categorically. Particularly the bits about independence and impartiality and objectivity and.....you get my point. 
Perhaps she attended The Hague trial out of sheer boredom as there was nothing much for her to do?  The military had probably written the report of the ICOE months earlier anyway? Ms Ghosh's Linkedin profile shows great promise at the start. Where did it all go wrong?