"Forgive Me, Nora" 
"Uncle, I want to eat Nga Ni Thu(1) dried fish with sour leaf soup."(2)
she spoke. She is a Rohingya woman from Rakhine State. I heard her voice inside the crowded Women and Child Care Centre in PhangNga, Thailand, where women and children, the "boat people" from Rakhine state in Myanmar, were being cared for by the Thailand government. When I first saw her, she told me her name is Nora in a Rakhine accent while holding her one-month-old baby to her chest. She looked at me with hopeful eyes, confident that I may help her. "Uncle, we are from Kyaut Phyu (Myanmar), they serve Thai food here, but it is not much to our liking. Therefore, I want to eat Nga Ni Thu dried fish with sour leaf soup." After seeing her and her child, I became interested in her story. I could not understand how a young mother with a months-old baby ended up at this center. I learned the story behind her painful journey when I spoke with her.

Nora's family is from a village near Kyaut Phyu township in Rakhine state. Homes were destroyed as a result of religious conflict and racial discrimination. The lack of jobs and poverty in the area led to her difficult decision to leave. Although she was nine months pregnant, she had no choice but to leave home. She explained with full emotions how she struggled and survived the journey—passing days at the sea with great difficulty on a boat, under the heat of the scorching sun, the pain from the forceful tides, and sometimes, even storms and heavy rain.
"We set off on 15th January 2013 at night. My baby was born on the boat only six days later. He was born on 21st January, and we were arrested on 27th January by the Thai Marines and sent to this center."

A Burmese proverb says, "The men's rafting work and the women's childbirth are perilous times as life-threatening." Poor Nora went through both of these situations.
More than one hundred people were cramped into a boat that only held thirty. Not only did they not have enough food, but they did not have any medicine. Although she had given birth twice before, it was tough to give birth on the boat where there was a lack of amenities. Two women with no experience delivering babies helped deliver her child. One of them told me about this experience, "I have never delivered a baby before. But there was no other choice, so I had to use my limited knowledge to help Nural. While we were delivering the baby, we ran out of clean water. We had to boil the seawater and wait for it to cool down, so we could use it for cleaning. The traditional Burmese women are shy to deliver a baby in front of many men on the boat. The women on the boat had to stand with blankets to create a covering for Nora's delivery.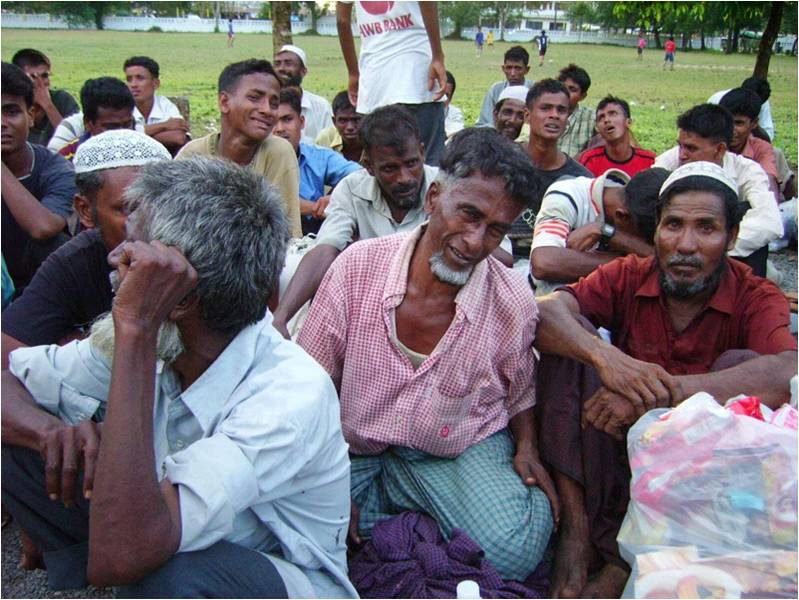 Most Burmese women want to have their husbands beside them during childbirth. Nora did not get this opportunity because her husband had already been arrested by the Thai Marines and sent to Immigration Prison. "If my husband was there, I would have had more courage to face difficulties. If I needed anything, I could ask without hesitating. I feel even more disheartened now that he is not with us," Nora said. She explained this as a wife who wanted to depend on her husband for things she needed.

Although there were no particular difficulties at the center, she did not want to live there for a long time. She mentioned that some of her friends managed to escape from the center and reached Malaysia. Nora hopes to live where she can be together with her family. Her eyes lit up while talking about these hopes.
She told me that she loved Myanmar very much but could never return to the country until the country became peaceful. Knowing her wishes and expectations, I was significantly hurt because I knew I could not help her in any way. If our mother, sisters, or wife were in these situations, would we be able to handle the pain? How many more young women like Nora have faced these difficulties? When I asked myself these questions, I felt very saddened for her.
"Forgive me, Nora."

Htoo Chit is Executive Director of the Foundation for Education and Development and Ashoka Fellow-2008.
Informal translation: 
(1) Nga Ni Thu = Kinds of dried Morula fish, most people from Rakhine state like it.
(2) Sour (Roselle) Leaf soup= Kind of vegetable soup, and it is a common Burmese soup for grassroots people.